A new chapter for the venerable Tufts-NEMC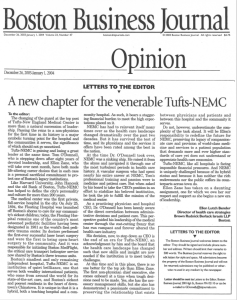 To the editor:

This changing of the guard at the top post of Tufts-New England Medical Center is more than a natural succession of leadership. Passing the reins to a non-physician for the first time in its history is a major symbolic turning point for the hospital and the communities it serves, the significance of which should not be unnoticed.

Tufts-NEMC is gaining and losing a great leader at the same time. Tom O'Donnell, who is stepping down after eight years of devoted leadership, and Ellen Zane, who will take over next month, have both made life-altering career choices that in each case is a personal sacrificial commitment to protect one of Boston's legacy institutions.

Like Harvard University, John Hancock and the old Bank of Boston, Tufts-NEMC has helped to define the city's personality and culture for more than 200 years.

The medical center was the first private, full-service hospital in the city. On July 25, 1894, the Floating Hospital was launched off Boston's shores to care for our community's sickest children; today, the Floating Hospital remains one of the country's most esteemed pediatric facilities having been designated in 1981 as the world's first pediatric trauma center. Its doctors performed the first-ever successful laser heart surgery and were the first to bring open-heart surgery to the community. And it was responsible for initiating Boston MedFlight, the critical care transport helicopter service now shared by Boston's three trauma units.

Boston's smallest and only remaining independent hospital, Tufts-NEMC is an institution of quiet brilliance, one that serves both wealthy international patients, who come from around the world for its state-of-the-art care, and Boston's sickest and poorest residents in the heart of downtown's Chinatown. It is unique in that it is a hybrid, both a teaching hospital and a community hospital. As such, it bears a staggering financial burden to meet the high expectations placed on it.

NEMC has had to reinvent itself many times over as the health care landscape changed dramatically over the past two decades. But it has survived the test of time, and its physicians and the services it offers have been rated among the best in the nation.

At the time Dr. O'Donnell took over, NEMC was a sinking ship. He raised it from the abyss and navigated it through one of the most turbulent periods in health care history. A vascular surgeon who had spent nearly his entire career at NEMC, Tom's professional training and passion were to medicine and patient care. But when asked by his board to take the CEO's position in an effort to stabilize his beloved institution, he took the job to fulfill the mission of the medical center.

As a practicing physician and hospital CEO, Dr. O'Donnell has been keenly aware of the direct correlation between administrative decisions and patient care. This perspective guided his leadership of the medical center through the cost-cutting frenzy that has run rampant and forever altered the health care industry.

His decision, now, to step down as CEO is the end of an era for Tufts-NEMC, an acknowledgement by him and the board that the health care landscape has changed such that new skills and insight are now needed if the institution is to meet today's challenges.

At this time and in this place, there is no one better for the top job than Ellen Zane. The first non-physician chief executive, she comes onboard at a time when tough decisions need to be made. Yes, she has the necessary management skills, but she also has demonstrated a passionate commitment to preserving the relationship that exists between physicians and patients and between this hospital and the community it serves.

Do not, however, underestimate the complexity of the task ahead. It will be Ellen's responsibility to redefine the future for NEMC, preserving its legacy of compassionate care and provision of world-class medicine and services to a patient population that demands more and ever higher standards of care yet does not understand or appreciate health care economics.

Tufts-NEMC, like all hospitals is facing impossible financial pressures. And NEMC is uniquely challenged because of its hybrid status and because it has neither the rich endowments nor the public coffers its counterparts across town do.

Ellen Zane has taken on a daunting assignment, one for which we owe her our respect and support as she begins a new era of leadership.
Ellen Lutch Bender
Director of Health Care Strategies
Brown Rudnick Berlack Israels LLP
@2003 Boston Business Journal. All rights reserved.