Baby boomers and chronic care costs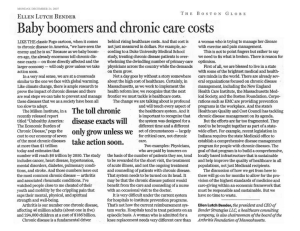 Like the classic Pogo cartoon, when it comes to chronic disease in America, "we have seen the enemy and he is us." Because as we baby boomers age, the already enormous toll chronic disease exacts – on those directly affected and the larger economy – will only grow unless we take action soon.
In a very real sense, we are at a crossroads similar to the one we face with global warming. Like climate change, there is ample research to prove the impact of chronic disease and there are real steps we can take to prevent and manage these diseases that we as a society have been all too slow to adopt.

The Milken Institute, in a recently released report titled "Unhealthy America: The Economic Burden of Chronic Disease," pegs the cost to our economy of seven of the most chronic diseases at more than $1 trillion today and estimates that number will reach $6 trillion by 2050. The study includes cancer, heart disease, hypertension, mental disorders, diabetes, pulmonary conditions, and stroke. And those numbers leave out the most common chronic disease – arthritis and associated rheumatic conditions. I've watched people close to me cheated of their youth and mobility by the crippling pain that saps their mental, physical, and spiritual strength and well-being.

Arthritis is our number one chronic disease, affecting 46 million adults (about one in five) and 294,000 children at a cost of $186 billion.

Chronic disease is a fundamental driver behind rising health care costs. And that cost is not just measured in dollars. For example, according to a Duke University Medical School study, treating chronic disease patients is overwhelming the dwindling number or primary care physicians across the country while the demands on them grow.

Not a day goes by without a story somewhere about the high cost of health care. Certainly, in Massachusetts, as we work to implement the health reform law, we recognize that the next frontier we must tackle is health care costs.

The change we are talking about is profound and will touch every aspect of the health care system. And it is important to recognize that the system was designed for a different time and a different set of circumstances – largely for critical care, not chronic care.

Two examples: Physicians, who are paid by insurers on the basis of the number of patients they see, tend to be rewarded for the short visit, the treatment of acute illness, and not the ongoing treatment and counseling of patients with chronic disease. That system needs to be turned on its head. It may be that the chronic disease patient would benefit from the care and counseling of a nurse with an occasional visit to the doctor.

It is very difficult under the current system for hospitals to institute prevention programs. That's not how the current reimbursement system works. Hospitals tend to treat patients on an episodic basis. A woman who is admitted for a knee replacement needs very different care than a woman who is trying to manage her disease with exercise and pain management.

This is not to point fingers but rather to say we need to fix what is broken. There is reason for optimism.

First of all, we are blessed to live in a state with some of the brightest medical and health care minds in the world. There are already several organizations focuses on chronic disease management, including the New England Health Care Institute, the Massachusetts Medical Society, and the Boston Foundation. Corporations such as EMC are providing prevention programs in the workplace. And the state's health care Quality and Cost Council has tackling chronic disease management on its agenda.

But the efforts are far too fragmented. They need to be brought together as part of a statewide effort. For example, recent legislation in Indiana requires the state Medicaid office to establish a comprehensive disease management program for people with chronic diseases. The goal of that program is to build a comprehensive, locally based infrastructure that is sustainable and help improve the quality of health care in all populations, not just Medicaid recipients.

The discussion of how we get from here to there will go on for months to allow for the provision of the highest standards of medicine and care-giving within an economic framework that must be responsible and sustainable. But we have no time to waste.