Losing a loved one to Alzheimer's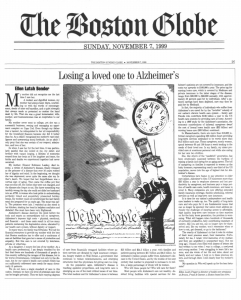 My mother did not recognize me the last time I saw her.

A modest and dignified woman, my mother had always been there, nourishing us with the words of encouragement, deeds of utter self-sacrifice, and a quiet strength that always made us protected no matter the hand dealt by life. That she was a great homemaker, wife, mother, and businesswoman was an inspiration to our family.

My mother never went to college, yet she ran a successful business, owning and managing an apartment complex on Cape Cod. Even though my father was a banker, he relinquished to her all responsibility of the household finances because she did it better than he. As a child I recognized my mother's vast intelligence and unwavering moral fortitude. As an adult I only pray that she was certain of our respect, admiration, and love of her.

So when I saw her for the last time, it was particularly painful that she looked at me, my sister, and brother with vacant longing, a lifetime of memories erased from her brain as if the laughter and tears, the births and deaths we experienced together had never occurred.

My mother, Eleanor Robinson Laskey, died recently, a victim of Alzheimer's disease, finally released as the prisoner of a disease that over 10 years robbed her of dignity and mind. In the beginning, we thought she was depressed, never quite the same after my father's death. We hoped that her forgetfulness was a normal sign of aging. Then came the coffee pot that was not shut off, the clothes that were not changed, and the dinners she forgot to eat. She knew something was terribly wrong the day she could not slide her bank card into an ATM. A woman who took pride in orchestrating perfectly timed and exquisitely presented holiday meals, my mother could not synchronize the last family meal she prepared for us years ago. The meat was early. The potatoes were late. I watched as she stood in her kitchen, shaking her head in helpless confusion and disbelief. She must have been very frightened.

Alzheimer's disease destroys the mind before the body and exacts an ordinary toll on caregivers. Alzheimer's imposes high costs – physical, emotional, and financial – and those costs result in all too many patients sustaining the degradation alone, alienated by our health care system, without dignity or respect.

In many ways, my family was fortunate. We had the financial resources to provide my mother with the best that Boston medicine has to offer and a continuum of care at facilities that gave her a sense of protection and empathy. But this care is not covered by insurance, private or otherwise.

As a daughter, I mourn the loss of my mother. As a health care professional, I am deeply troubled by the fact that there are hundreds of thousands of people in this country suffering the ravages of this disease, but in far worse circumstances, victimized not only by the disease, but by our nation's health care system which has not sufficiently addressed care needs for many chronically ill patients.

We do not have a single standard of care in this nation. Instead, we have one level of premium care that can be bought privately. Then we have varying degrees of care from financially strapped facilities whose patient services are dictated by rigid insurance companies, hungry traders on Wall Street, a government that continues to reduce reimbursements, and emerging structures that fine physicians for giving care too long.

As the population ages, Alzheimer's disease is reaching epidemic proportions, and long-term care is emerging as one of the most critical issues of our time. The total medical cost for Alzheimer's alone is between $23 billion and $24.5 billion a year, with families and patients paying between $3.7 billion and $6.5 billion. An estimated 4 million people suffer from Alzheimer's disease in the United States, and by the middle of the next century that number is projected to increase to 14 million, a large percentage of whom will be women.

Who will these people be? Who will care for them?

Most people with Alzheimer's are not wealthy. Assisted living facilities with special services for Alzheimer's patients are not covered by insurance, and the costs run upwards to $100,000 a year. The price tag for nursing home care, which is covered by Medicare and private insurance, in the later stages of the disease, range from $30,000 to $60,000 annually, with approximately 50 percent paid for by individuals. After a patient's savings have been depleted, care may then be paid for by Medicaid.

In fact, the majority of individuals who suffer from Alzheimer's are cared for by the "invisible" subsidy of our nation's chronic health care system – family and friends who contribute $196 billion a year to the US health care systems by providing care at home. According to a 1999 study by the Alzheimer's association, the economic contributions of informal caregivers dwarf the cost of formal home health care ($32 billion) and nursing home care ($80 billion) combined.

In Massachusetts, there are more than 610,000 informal caregivers spending 568 million hours providing long-term services estimated to be worth more than $4.5 billion each year. These caregivers, mostly women, spend between 60 and 100 hours a week tending to the needs of their loved one. In my family, my sister provided care at enormous personal cost while also caring for her own two children.

She, like others of the "sandwich" generation, has been emotionally squeezed between the burdens of raising a family and caring for an aging parent. The toll of care giving on families is expected to worsen as the baby boomers, representing nearly one-third of the US population, moves into the age of highest risk for Alzheimer's disease.

Corporations have begun to pay attention to elder care issues. Alzheimer's costs US businesses more than $33 billion a year in employee absences and lost productivity by caregivers, and business pays a large portion of health care costs, health insurance, and taxes to cover it. Many companies are now offering extended family insurance coverage, flexible scheduling, referral services as well as long-term care insurance.

It is time for our nation's policymakers and health care leaders to wake up, too. The quality of long-term care and who pays for it are fundamental issues that can no longer be ignored. Our nation must address seriously the challenge of insuring access to affordable, high quality long-term care because as time marches on for the baby boom generation, the problem is worsening. What will happen when hundreds of thousands of currently productive, fully contributing members of society, like you and me, can no longer care for themselves and, like my mother, won't remember when or how to eat, get dressed or go to the bathroom?

The cruelty of Alzheimer's is that it robs its victims of their most precious asset, their memories. Fortunately for me, I retain vivid memories of my mother, and they are amplified in unexpected ways. Not too long ago, I found a box filled with dozens of letters she had written to me when I was in college, a newlywed and young mother. I was struggling to learn life's lessons, and she wrote of her life and mine, about our family and our values. I hold on to these precious letters, and through them I still clearly hear my mother's voice.