City's changing corporate face puts new pressure on giving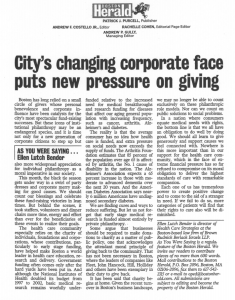 Boston has long relied on a small circle of givers whose personal benevolence and corporate influence have been catalysts for the city's most spectacular fund-raising successes. But these icons of institutional philanthropy may be an endangered species, and it is time not only for a new generation of corporate citizens to step up but also more widespread appreciation for individual philanthropy as a moral imperative in our society.

This month, the black tie season gets under way in a swirl of party dresses and corporate merry making for good causes. We should count our blessings and celebrate these fund-raising victories in lean times. But behind the scenes, it took staffers, volunteers and dinner chairs more time, energy and effort than ever for the beneficiaries of these events to realize their goals.

The health care community especially relies on the charity of individuals, foundations and corporations, whose contributions, particularly to early stage funding, have helped make Boston a world leader in health care education, research and delivery. Government funding often comes only after the hard yards have been put in. And although the National Institutes of Health doubled its budget from 1997 to 2002, basic medical research remains woefully under-funded relative to the increased need for medical breakthroughs and research funding for diseases that affect our aging general population with increasing frequency, such as cancer, arthritis, Alzheimer's and diabetes.

The reality is that the average consumer has no idea how health care is funded, and extra pressure on social needs now exceeds the supply of funds. The Arthritis Foundation estimates that 85 percent of the population over age 65 is affected by arthritis, the No. 1 cause of disability in the nation. The Alzheimer's Association expects a 65 percent increase in those with moderate to advanced dementia over the next 20 years. And the American Diabetes Association says nearly 6 million Americans have undiagnosed secondary diabetes.

We are finding cures and ways to reduce suffering. But let us not forget that early stage medical research is funded almost entirely by private philanthropy.

Some argue that businesses should be required to make donations to charity as a matter of public policy, one that acknowledges the attendant moral principle of giving back to the community. That has not been necessary in Boston, where the leaders of companies like Fleet, John Hancock, Hill, Holliday and others have been exemplary in their duty to give back.

It has been said that charity begins at home. Given the recent turnover in Boston's business landscape, we may no longer be able to count exclusively on these philanthropic role models. Nor can we count on public solutions to social problems.

In a nation where consumers equate medical needs with rights, the bottom line is that we all have an obligation to do well by doing good. We should all learn to give generously and support causes we feel connected with. Nowhere is this more important than in our support for the health care community, which in the face of extreme financial pressure has so far refused to compromise on its moral obligation to deliver the highest standards of care with remarkable compassion.

Each one of us has tremendous power to create positive change and to come to the aid of a stranger in need. If we fail to do so, more categories of patients will find that their rights to care also will be diminished.