Wrong Target on Health Care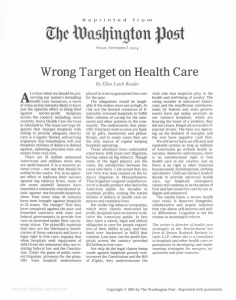 At a time when we should be preserving our nation's dwindling health care resources, a wave of class-action lawsuits likely to have just the opposite effect is being filed against not-for-profit hospitals across the country, including, most recently, Inova Health Care Services in Alexandria. The mass tort-type litigation that charges hospitals with failing to provide adequate charity care is a legally flawed, self-serving argument that nonetheless will cost hospitals millions of dollars to defend against siphoning precious time and money from real care.

There are 45 million uninsured Americans and millions more who are underinsured. It is a massive societal crisis – not one that should be settled in the courts. Yet, in an apparent effort to replicate their success against big tobacco firms, some of the same plaintiff lawyers have launched a nationally coordinated attack against not-for-profit-hospitals. Since June more than 40 lawsuits have been brought against hospitals in 23 states. The charge? That they have conspired against the poor and breached contracts with state and federal governments to provide free care as promised under their tax-exempt status. The plaintiffs maintain that they are the third-party beneficiaries of these contracts and have a legal right to free care, arguing that when hospitals seek repayment of debts from the uninsured, they are violating federal law and the Constitution. Under the guide of public interest litigation, attorneys for the plaintiff want hospital endowments placed in trust to guarantee free care for the poor.

The allegations would be laughable if the stakes were not so high. At risk are the limited resources of financially stressed hospitals to fulfill their mission of caring for the uninsured and other patients in the community. The endowments that plaintiffs' attorneys wish to seize are funded by gifts, memorials and philanthropy, and in many cases, they are the only source of capital keeping hospitals operating.

These attorneys have substantial experience with mass tort litigation, having taken on big tobacco. Though some of the legal players are the same, the similarities between the cases end there. I am proud that my law firm was lead counsel on the tobacco litigation in Massachusetts. That litigation targeted manufacturers of a deadly product who lied to the American public for decades to maintain profits, costing the nation billions of dollars in health care expenses and countless lives.

But unlike big tobacco companies, which were clearly motivated by profit, hospitals have no motive to deceive the American public. In fact they have a moral, legal and ethical obligation to care for people regardless of their ability to pay, and they bend over backward to fulfill that mission. Last year, not-for-profit hospitals across the country provided $23 billion in free care.

Not only do the legal claims being made against hospitals grossly misinterpret the Constitution and the Bill of Rights, they underestimate the vital role that hospitals play in the health and well-being of society. The rising number of uninsured Americans and the insufficient reimbursement by federal and state governments have put undue pressure on our nation's hospitals, which are bearing the brunt of a problem they did not create. Hospitals are in dire financial straits. The best are operating on the thinnest of margins, and the rest have negative cash flow.

We will never have an efficient and equitable system so long as millions of Americans go without health insurance. However unfortunate, there is no constitutional right to free health care in our country, just as there is no right to other essential human needs, including food, clothing and shelter. Until our nation's leaders decide to provide universal health care, our hospitals' emergency rooms will continue to be the option of first and last resort for care by our indigent and uninsured.

The nation faces a severe health care crisis. It deserves thoughtful, collaborative and urgent solutions that rise above self-interest and policy differences. Litigation is not the avenue to meaningful reform.

The writer is director of health care strategies of the Boston-based law firm of Brown Rudnick Berlack Israels LLP, where she is a consultant to hospitals and other health care organizations in developing and implementing strategies for mergers, acquisitions and joint ventures.
Copyright © 2004 by The Washington Post. Reprinted with permission.