Blaming the Hospitals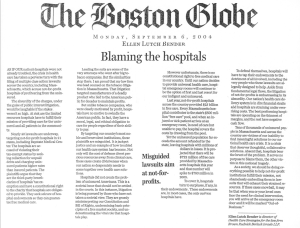 As if our nation's hospitals were not already troubled, the crisis in health care has taken a perverse turn with the filing of multiple class action lawsuits across the country, including Massachusetts, which accuse not-for-profit hospitals of profiteering from the uninsured.

The absurdity of the charges, under the guise of public interest litigation, would be laughable if the stakes weren't so high. At risk are the limited resources hospitals have to fulfill their mission of providing care for the uninsured and all patients in the community.

Nearly 40 lawsuits are underway, targeting not-for-profit hospitals in 21 states, including Baystate Medical Center. The hospitals are accused of violating their tax-exempt status by seeking collection for unpaid debts and charging uninsured patients higher rates than insured patients. The plaintiffs argue that they are the third-party beneficiaries of hospitals' tax exemption and have a constitutional right to the charity that hospitals are obligated to provide. They seek seizure of hospital endowments so they can guarantee free medical care.

Leading the suits are some of the very attorneys who went after big tobacco companies. But the similarities stop there. I am proud that my law firm was lead counsel on the tobacco litigation in Massachusetts. That litigation targeted manufacturers of a deadly product who lied to the American public for decades to maintain profits.

But unlike tobacco companies, who were clearly motivated by profit, hospitals have no motive to swindle the American public. In fact, they have a moral, legal, and ethical obligation to care for people regardless of their ability to pay.

By targeting our country's most notable and benevolent institutions, these plaintiffs are misguided. It is jackpot justice and an example of how troubled our health care system has become. Not only will the cost of defense divert precious resources away from clinical care, these cases create divisiveness when our nation so desperately needs to come together over health care solutions.

Hospitals did not create the problem of uninsured Americans. This is a societal issue that should not be settled in the courts. In this instance, litigation is being pursued by those who have not taken a societal view. They are grossly misinterpreting our Constitution and Bill of Rights, undermining basic principles of a free market society, and underestimating the vital role that hospitals play.

However unfortunate, there is no constitutional right to free medical care in our country. Until our nation decides to provide universal health care, hospital emergency rooms will continue to be the option of first and last resort for our indigent and uninsured.

Last year, not-for-profit hospitals across the country provided $23 billion in free care. Every Massachusetts hospital contributes to the state's $500 million "free care" pool, and when an injured or sick patient arrives at an emergency room, in need of care but unable to pay, the hospital covers the costs by drawing from the pool.

Yet the uninsured population far exceeds the amount refunded by the state, leaving hospitals with millions of dollars in losses. It is projected that there will be $722 million of free care provided by Massachusetts hospitals this year and that number will spike to $783 million in 2005.

To cover it, hospitals turn to surpluses, if any, in their endowments. These endowments are, in most cases, the only cushion hospitals have.

To defend themselves, hospitals will have to tap their endowments to the detriment of all involved, including the very people who these lawsuits are allegedly designed to help. Aside from fundamental legal flaws, the litigation of not-for-profits is embarrassing in its absurdity. Our nation's health care delivery system is in dire financial straits and hospitals are straining under ever-rising costs. The best performing hospitals are operating on the thinnest of margins, and the rest have negative cash flow.

Tens of thousands of uninsured people in Massachusetts and across the country are victims of our inability to find meaningful solutions to our national health care crisis. It is a crisis that deserves thoughtful, collaborative solutions. Absent that, hospitals bear the brunt of the problem. It serves no purpose to blame them, the other victim in this national tragedy.

As a society, we should be doing everything possible to help not-for-profit institutions fulfill their mission, not shamelessly embroiling them in lawsuits that will exhaust their strained resources. If these cases snowball, it may be that when you or your loved ones face the need for clinical intervention, you will arrive at the emergency room door and it will be marked "Out-of-Business."